CAUSES OF FOUNDATION FAILURE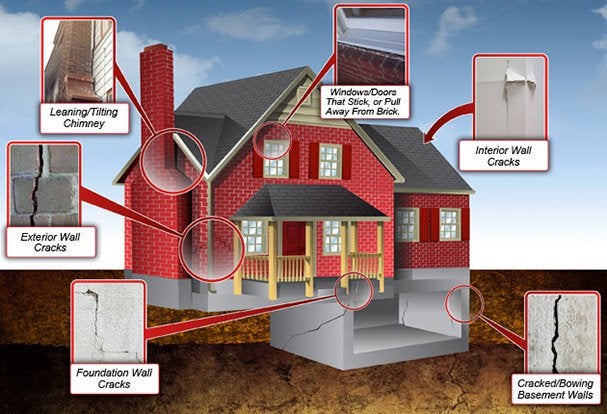 1 – EXPANSIVE SOILS
One common cause of foundation settlement is expansive soils. When dirt or clay gets wet due to heavy rain, broken water pipes or poor drainage, they expand. When they dry out due to drought, they contract. This movement causes the soil under your home or commercial property to settle and shift at an uneven rate, compromising the stability of the structure.
2 – POOR DRAINAGE / PLUMBING LEAKS
When an excess of water is constantly present, due to poor drainage or plumbing leaks, the soils that support your foundation can quickly erode. It's important to check gutters and plumbing on a regular basis to prevent foundation problems.
3 – IMPROPER SOIL COMPACTION
While fairly uncommon, one cause of foundation settlement is improper compaction of soils at the time of construction. If a builder did not properly prepare the site before the foundation was poured, soils are much more likely to shift and settle.
4 – TREES
Trees can consume massive amounts of water. It's certainly possible for roots to cause foundation issues, but usually the problem with trees is that they pull water away from the soils supporting the home. This causes soil contraction and foundation problems.
5 – CRACKED BRICKS
The most obvious signs of a foundation problem is cracked bricks. Expansive soil swells when it gets wet and compacts when it becomes dry. This constant expansion and contraction causes uneven movement of the home's foundation, usually resulting in cracking bricks on the exterior.
Cracked bricks often have a zig-zag pattern following the mortar joints. However, these cracks can run vertically cracking the bricks themselves, horizontally or in any combination. It is important to realize this is a symptom and not the problem! If you fix the cracking bricks by patching or filling you're not addressing the real issue. Lots of money has been wasted by filling cracks or even rebuilding portions of walls just to have the problem continue to worsen.
6 – LEANING CHIMNEYS
Your chimney is generally the heaviest portion of your home. Chimneys are usually attached to a support wall with mortar and other braces that cannot support a chimney if the footing settles. This can create a dangerous situation in which a heavy portion of your home becomes unstable. It is important to have chimneys inspected as soon as you see signs of cracking, shifting, leaning or settling. Simply attempting to fill in gaps with mortar or caulking can lead to more damage and costly repairs.
7 – DAMAGE IN NEW & OLD HOMES
Many homeowners assume that if a house is new then the foundation must be strong. Unfortunately, this is a very common misconception. No matter how old or young a home is, cracks and other foundation problems are still possible. These issues can worsen or be compromising the structural integrity of your home. If the problem is not addressed the strain will continue on an already weakened structure.
8 – OTHER SIGNS
While cracked bricks and leaning chimneys are common signs to look for there are other strong indicators of foundation failure such as:
Separation in Fascia Boards
Separation in Expansion Gaps
Caulk Separation around Windows and Doors
Windows & Doors that Stick
Sagging or Cracked Floors
Interior Cracks in Sheetrock